Have you ever thought of screencasting your gameplay on your PC? Or are you planning to upgrade your current game recording software? It's quite easy if you are an Android or iOS user as some smartphones come preloaded with the necessary tools. If not, you are always free to head to your smartphone app store to download the same. But this is not the case with most of the PCs out there. To help you make it easier to choose one, we have shortlisted six of the best softwares available that will deliver you the best performance.
There are several versions of game recording software which vary in price and functionality. However, most of them share a few common features like:
Alterable video frame
Cut-and-paste editing options
Unlimited recording time and
Direct link to social media
If you are still wondering which tool should you use to record a new manoeuvre in your favourite game, this shortlist is all you need to make an informed decision and start creating.
Most of the softwares mentioned here are compatible with Windows 7/8/10 Operating System and all other softwares.
#1: TalkHelper
If you're using a Windows PC, then TalkHelper Screen Recorder will be the first software we'll recommend. To begin with, this software's user interface is quite simple and intuitive and it also delivers you a host of other features to choose from. You can record in full screen, access last recorded region, a custom region and around the mouse.
Concerning audio, you can incorporate an audio input from your PC or record audio by using the built-in microphone. You can also alter volumes of each of these audio sources to your liking. You can also include webcam footage on the main screen recording.
On the other hand, also you can do some real-time drawing, add text and even add watermarks and logos, schedule recordings and configure auto stops. Display countdown, modify frame rate, assign hotkeys, access a magnifier and customize output filenames as well.
Download Talk Helper
#2: Icecream Screen Recorder
Icecream screen recorder is a proper tool which gives you various options to record your computer screen and help you make a live-streaming video of any particular application running on your PC like a game. Along with its cool UI, you can capture the webcam and system sound at the same time while you screen-record, attach annotations like text, arrows or numbers or any other characters on the screen.
Besides, Icecream supports multiple mainstream file formats including MP4, AVI, WMV and MOV.
Download Icecream
ShareX is an open-source screen capture and screen recording software that offers you a platter of astounding features that will let you capture screenshots, add annotations and upload to social media.
In spite of being a free screen capture tool, this software lets you to efficiently record videos running on your computer display from a specific region and also choose from different video output formats including GIFs.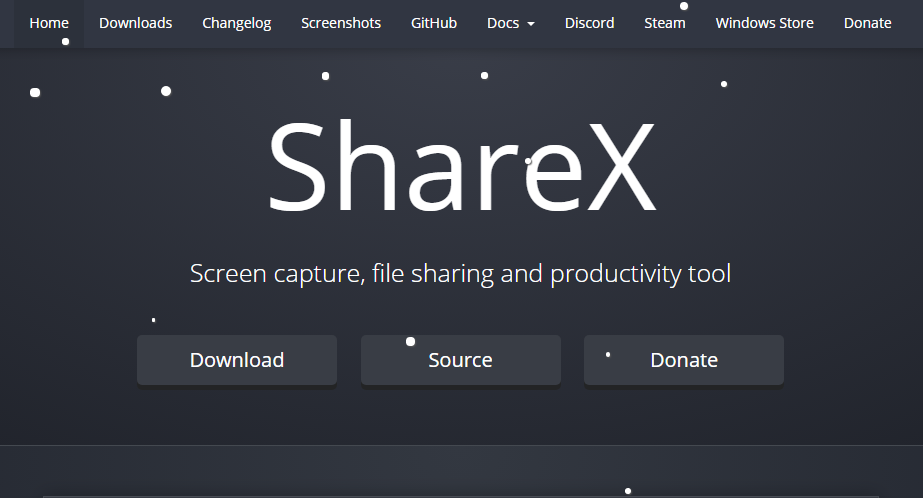 With multiple capturing modes offered by ShareX, you can easily choose a specific monitor to record in case you have multiple monitors plugged into your Windows laptop. you can also record some PowerPoint presentations in the presenter's or viewer's mode individually into different output video files and achieve them in this software although you don't need this feature while playing a game.
Download ShareX
#4: Smart Pixel
Smart Pixel is also one of the most excellent screen recording software for Windows OS. It can be extensively used for creating demo videos, screen-recording Youtube videos and game-play videos as well. This software consists of three main functioning modes which are "Record", "Editor" and "Webcam". In "Record" mode, you can capture a screen video along with voice annotation from your microphone.
In "editor" mode, you can edit the draft footage by scraping, trimming unwanted audio and video clips, add visual effects, embed subtitles and much more. In "Webcam" mode, you can effortlessly personalize the screencast by including yourself in the video using a built-in or external webcam. Finally, you can save video clips in various formats like MP4, WMV, FLV, AVI.
Download Smartpixel
#5: Ezvid
Ezvid is also a capable screen recorder and offers many useful features that enable you to record desktop screen, gently edit videos and also lets you upload videos directly to your Youtube channel. Ezvid lets you add text slides using speech synthesis system which will save a lot of your time as you don't have to type anything.
Just like the other softwares listed above, you can insert audio tracks directly from a pre-recorded MP3/WAV file and add subtitles as well. Such features will surely let you create professional and review-ready tutorial videos without much effort. But on the flip-side, Ezvid restricts users to recording screen videos that don't exceed 45 minutes in Windows 10. Besides, you can't save the screen-recording you have made using this software in a local file format.
#6: Screencast-O-Matic
Screencast-O-Matic is a robust screen recording and video editing tool and can be accessed from a web browser as an online tool or a Windows application as a software. This software aka tool simplifies the recording process, previewing and editing in a straightforward interface. This helps beginners to easily and quickly learn where and how to get started.
Although there's a trial version available. I'd recommend you to go with the paid version to extract the maximum from this software.
Download Screen-o-Matic