This is our dream Valorant team from VCC: With Valorant Conquerors Championship already unfolding, we can't wait to see the competition in South Asia unfold. The VCC play-offs are ongoing!
Valorant Conquerors Championship is a chance for South Asian teams to make it to the Champions, Valorant's biggest and year-end tournament. The winner of the VCC finals will get a slot at APAC LCQ, and the winner of the LCQ will advance to the Champions. The VCC Main Event begins on the 20th of August, with a prize pool of $31,500 USD, for which 8 teams will compete online in the playoffs and finals stages respectively.
We decided to create a dream team based on all of the best teams playing in the VCC Main Event.
The Criteria To Be Considered:
As it is with all things, there will be a semblance of subjectivity when it comes to such dream teams. However, our criteria for the players in the dream team will be mainly based on:
their roles and how they fit in on the team
their statistical performances in context of their teams
the play styles and synergy between the players
We would also like there to be a decent sample size of recorded matches on each player, so players with very few official recorded games will not have as much credibility as more active players.
The Qualified Teams:
The following teams have qualified for the VCC main event:
Velocity Gaming (India)
Global Esports (India)
Salt Esports (Pakistan and Afghanistan)
Team Exploit (Pakistan and Afghanistan)
Exceeli Esports (Bangladesh)
Crash Landin On You (Sri Lanka and Maldives)
Enigma Gaming (India)
Damaru Gaming (Nepal and Bhutan)
The Positions in the Team:
1. Primary Duelist
The Primary Duelist in the team is one of the most important roles to fill. This position has one of the highest potential impacts and can single handedly carry the team through consistent reliable support from the team. Most teams build their whole systems around this singular and/or another duelist player, making these players the most comfortable and allowing them to play at their best.
For this position our primary candidates from amongst the VCC main event teams are: Ganesh "Skrossi" Gangadhar, and Mohit "mw1" Wakle.
Our pick will be: Ganesh "SkRossi" Gangadhar.
SkRossi's career and stats speak for themself, with him boasting an impressive 1.41 rating in the previous three months, and fighting with his team to an impressive 8 Big Event trophy case. Global Esports haven't really struggled much after replacing Deathmaker, winning an impressive amount of titles, including the VCC India Qualifier #2. He has an incredible 0.28 First Kill per Round, and a 62% Entry Success Rate. He mainly OPs for his team but is incredibly comfortable on rifles as well, as shown by his 25% head shot percentage.
Mohit "mw1" Wakle has the strongest argument to contest this position against SkRossi. Aged 23, he has completely revitalized VLT following Marzil's move in to the 6th man role, and after months of mediocre results, VLT beat GE in the VCC #1 Qualifiers, amongst other tournaments as well, to be crowned jointly if not alone the best team in India at the minute.
He has an impressive 1.31 rating with lesser numbers on the First Kill per Round, but when his team is playing as well as they are (with him clearly being the defining change that led to it), stats become slightly redundant.
2. Controller
Controllers although do not have as much playmaking ability as duelists, often are just as important in ways that are different. A good controller absolutely changes how the team plays, but also keeping in mind, being a good controller is not as high a skill ceiling as a good duelist is.
Controllers almost always bear the brunt of misrepresentative stats, due to having to dry entry into sites during site takes, especially in the late rounds, when theres less supportive utility and the duelists may not be alive.
Our choices for the best Controller players in the VCC teams are: Bhavin "Hellranger" Kotwani, and Anuj "Amaterasu" Sharma.
Bhavin "Hellranger" Kotwani is our pick for this role.
Hellranger since the inception of VALORANT has put consistent performances on various controller agents, whilst also being the primary caller for his team. His team have consistently been one of the better teams, and completely changed a few months after Abhirup "Lighhtningfast" Paul joined the roster. He boasts an impressive career 1.03 rating whilst not playing any duelists or traditional information gathering initiators like Sova and Skye, both of which allow a players KDA to bloat.
Amaterasu is however statistically even more impressive as he maintains an impressive 1.07 KD over his career, but has flexed into duelist agents quite often. His team won the VCC #1 Qualifier beating Hellranger's Global Esports, but as a pure Controller and IGL we thought Hellranger was more impressive.
3. Sentinel
Sentinels are often very overlooked in the team but like every other role in Valorant, have a very high impact ceiling when in the hands of a competent player. Sentinels lack the playmaking, high octane abilities of the Duelists, but definetly can control parts of the map, gain information, and deny access to certain chokepoints with ease.
A good sentinel player is the most versatile player in the game with the ability to gather information with abilities like the cypher cam, and able to hard entry when he doesnt have any important abilities remaining, or able to control areas with abilities like the Sage wall, slow orb, Cypher cage, and Killjoy turret.
Sentinels are sometimes are sometimes 'dry-entries' in site takes if the duelist or if the controller has useful postplant utility, or if the duelist has been taken down. Sentinels have no utility to make plays or get those good looking kills, but can turn the round around with a good site hold or flank.
Our two candiates for this role are: Abhirup "Lightningfast" Paul, and Sagnik "hellf" Roy.
We chose to go with Abhirup "Lightningfast" Paul.
Lightningfast and Hellf have both played on Global Esports at some point of their career, and have loads of winning experience amongst them, but it definetly helps having to play with accomplished players like the players they have in their own respective teams. He has been one of the best sentinels in South Asia, playing his trademark Cypher on Global Esports.
He has maintained a very respectable 1.09 rating compared to hellf's career 1.03 rating. Lightningfast and Hellf have both played on Global Esports at some point of their career, and have loads of winning experience amongst them, but Global did not truly kick off until Lightningfast joined, which doesn't say much other than the fact that Lightningfast was maybe more versatile and provided to the team something special. (not to disregard hellf who went on to achieve equal if not better things at Velocity Gaming)
4. Support / Initiator
The Initiator and/or Support role is one of the most crucial roles roles in the team. For a passive player in the mould of a coldzera, who thrives in the late round and clutch situations to play in, this role would be the ultimate fit. Not all players in a team can or should be aggressive, and so playing this role effectively means setting up your team with the perfect utility whilst also making sure they're not being caught off guard from the angles the primary and secondary entry haven't cleared, or from a wild, pushed smoke or any other forces of nature of that sort.
Sometimes these players will just play to support from the entrances of sites on the attackers side, and then play the post plants with their high value regenerating utility.
Our choices for this role were: Tejas "rite2ace" Sawant, Sameer "godvexy" Sharma, and Akshay "Kappa" Sinkar
We picked Tejas "rite2ace" Sawant to be our initiator from amongst the VCC main-event teams.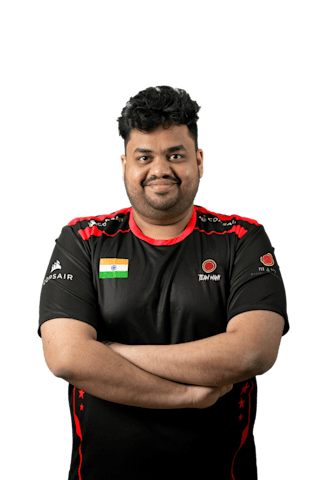 Rite2ace is one of the true veterans of the South Asian scene, and the only active player to have competed in an international global LAN, not to mention the CS:GO major. He competed with Team Wolf in the 2014 Major, playing against top CS:GO teams, and has continued to show that level of play in his CS:GO and VALORANT career.
He along with VLT dominated the early VALORANT stages, with a drop off when multiple core members of the team left, and started contesting for the title of the best team in India once again around the VCC qualifiers.
He maintains a 1.01 career rating, whilst maining Sova, and has played a decent bit of Skye as well in contrast to Kappa who has a lower 0.95 rating and plays Breach as a secondary. Both players are exceptional but, rite2ace also being a master in the clutch situations, whilst also being a secondary caller on Velocity Gaming helps take this over the line for him. He also is more in tune with the meta due to his ability to play Skye which goes a long way at the moment.
5. Flex
The flex players usually play the secondary duelist, if the team requires one, or fill in with a controller or initiator depending on the teams playstyle. These players have to be very experienced and masters of all forms of the game, and must be able to adapt their game as required, even mid game if needed.
Our choice for the flex role was: Anuj "Amaterasu" Sharma.
Amaterasu is one of the more accomplished players in the scene who has played a flexible role in his teams Velocity Gaming and Team Mahi. He has been a stalwart of the scene. He and his team dominated the early months of VALORANT and the development of multiple top players has been attributed to him such as Deathmaker, Antidote and more. He is a very vocal player who contributes very much out of game, as well as in-game.
He has now played Pheonix, Breach, Omen, Brimstone, Sage and multiple other agents very comfortably in high pressure environments and important matches, taking the win in most of them. He can lurk, entry, trade in and whatever else the team needs including IGLing if need be. He has a career rating of 1.07 and a whooping 30% headshot rate, which is upper high even amongst professionals. Although there are other players like Jayanth "skillz" Ramesh and others who can fill in flex agents quite comfortably, Anuj's out of the game impact and versatility ingame along with winning experience and mentality takes it for us.
Concluding thoughts:
With this, our final Team Gamzo x VCC play-offs team roster would be:
Anuj "Amaterasu" Sharma
Tejas "rite2ace" Sawant
Abhirup "Lightningfast" Paul
Bhavin "Hellranger" Kotwani
Ganesh "SkRossi" Gangadhar
For us, this is the absolute dream VCC Play-offs dream team.
We're well aware of the talent in the other underrated VCC main-event teams like Salt Esports, Team Exploit, Damaru Gaming and others, but we feel like we haven't seen enough of them in relatively more competitive events to be able to truly gauge them. We expect them to show up and surprise a lot of this in this event though and we can't wait to see it.
We think this team would absolutely go places, combining the relative firepower of the younger players with the experience and winning pedigree of the more experienced veterans of the scenes. We think these players would play extremely well with each other, and the fact that they are arguably the best players in their roles aswell would lead to them being the best team in the region.
To watch the VCC main-event please click here!
If you like this article, please dink the bell icon on the bottom right of this page for the latest Valorant notifications (no spam, promise!), and follow us on Instagram, Google News.