We caught up with veteran Counter Strike and VALORANT player Sagnik "Hellf" Roy, who has now played on the biggest organizations in the Indian Scene, in Global Esports, Velocity Gaming and also Team Mahi.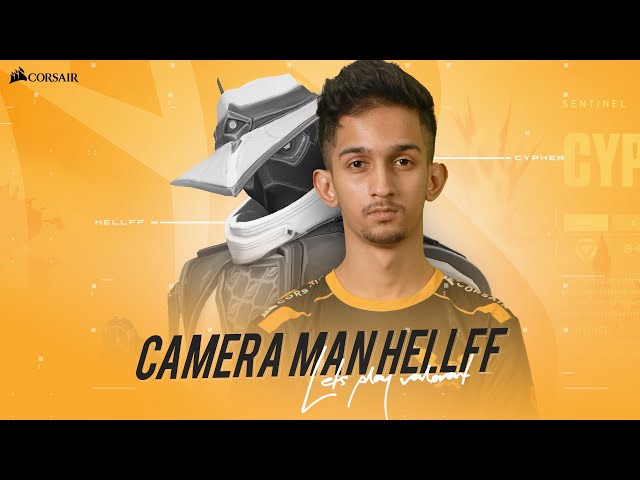 We caught hold of Hellf a few weeks prior to the start of the VCC qualifiers, and he had a lot of things to say about recent events. We spoke of camp environment, recent results, team changes, and some general questions about hellf himself.
Hi Sagnik. Thought on the recent results? You've had some good second place, and similar finishes, with the last trophy at the TEC Invitational Season 2. How are things at the camp?
Right now after having that breakout of the team, I think we are holding up pretty good. Whatever performance we are showing is decent, not bad, but we still want to be the number one team because we had the taste of winning the last year. So, yes everyone is really motivated for the upcoming tournaments and it's going good, you can say. The environment is really good and positive.
At the point of time of the interview, VLT had finished 3rd place at the Rooter: Rise of Legends, 2nd place at the Penta Esports Invitional, 3rd place at the SKWAD Invitational, and another 2nd place at the Villager Esports Valorant Championship.
Adressing the elephant in the room, two out five core members have left the team, and results have not been the same since the first year. How has the team dealt with the situation?
Yes, actually it has been really harsh for us as a team. After the situation, we have been very shaky, we have not been performing very consistently that we were doing. At first we used to come consistently first, then we came second, but after the situation we were coming third fourth, we were dropping maps to random teams. It was hard for us, but we are trying our best and just getting back to the old groove.
Sabyasachi "Antidote" Bose and Karan "excali" Mhaswadkar left Velocity Gaming in two seperate events, with Antidote leaving with mutual consent on good terms. Both were original members of the 5 that formed Velocity Gaming last year.
On the topic of the members of Velocity Gaming, how has the experience been to play with such a storied and massive name in the Indian scene in Marzil, ever since he joined VLT's VALORANT division?
Marzil had been one of the biggest names in counter-strike in the South Asian scene so far, and had been playing orgless for months on. He had been on a regional 7 CSGO tournament winning streak when, he was picked up by Velocity Gaming. He has bought plaudits to India and never backed down to represent India in the international level, the best he can.
Actually I haven't played with him in CS, so, I didnt know him very well. In Valorant, when he came to the team, we were going through a lot of downtimes and he brought a positivity to our team, he uplifted us. His experience and role in the team has been important to us.
You have also added Mohit "mw1" Wakle to the roster. How has it been to play with such a talented Jett player like him?
mw1 is an insanely skilled guy. There are only a 1-2 people as skilled as him in the current Indian Valorant scene. Of course he brought a huge firepower with him, and that is helping us as a team because what we lost was firepower. We needed it and that is helping us a lot right now.
Will he continue to play his trademark Jett across all maps? Or will he change up some agents to accomodate for his teammates on VLT?
I think it works both ways, he is also trying and we are also trying. And we can't yet tell you what we are going to play (laughs). You might see us play the new agent, you might not. I can't just say that yet.
Is there anything decided on the future of mw1? Will he stay post VCC?
Actually, I don't know about what he hald talked to the owner. At present what we know is that he will be playing with us for the next few months. We don't know for sure about the future actually.
Moving on to the rapid fire round..
We then asked Hellf a series of quick questions that we hope our readers can find intriguing. We had loads of fun with this one:
Phantom or Vandal?
Phantom.
Antidote or Deathmaker?
Both. They are really close. I can't choose
Celebrity Crush?
I have so many, oh my god. The most recent one? Elizabeth.
Sentinel or Controller?
Sentinel.
VALORANT or CSGO?
Valorant.
Favorite food?
Biryani.
Naruto or Dragon Ball Z?
Actually I haven't watched any of it. No, I watch anime a lot but still not watched Naruto or Dragon Ball Z. AOT is my favorite!
Breeze or Icebox?
I personally like Breeze a lot.
Best 3 words to describe yourself.
Awkward…ahh maybe, cute, and amazing maybe.
With this we reached the conclusion of our talk with VLT's Sagnik "Hellf" Roy. At the point of publishing, VLT have just won the VCC India Qualifier #1 beating Global Esports 3-1! (which you can read about here)
They are the first team Indian to have qualified for the Valorant Conquerors Championship, and we wish all our best wishes to Hellf and the team!
If you like this article, please dink the bell icon on the bottom right of this page for the latest Valorant notifications (no spam, promise!), and follow us on Instagram, Google News.